Alfa Antivirus
UPDATE: 9-29-09  After contacting PCtools about SDA not fully picking this threat up and removevirus.org providing the source files for it their client does now work to fully remove the threat. Alfa Antivirus looks to be a clone of Personal Antivirus.  This is can be one hard threat to remove.  It's important to note that this is a fake security program.  If you had any ideas about purchasing this client then forget about it.  You would just be taken advantage of.  What makes alfa Antivirus hard to remove is that every executable that someone opens gets shut down right away. To get around this you need to end the current running process of this virus.  Often times being in safe mode will do no good because people get a blue screen when trying to go that route.  Our guide below on how to remove Alfa Antivirus covers some good tips to help you get around this. You need to understand that this fake software is not the only threat on your computer.  More often then not users will have several viruses installed on the system and you need to ensure that you remove all of them.
Some symptoms of Alfa Antivirus:
Bogus Scan results
Auto Scans on Start-up
Warning coming out of a fake shield in the system tray
pop-ups and re-directs to the fake software's website
constant warnings of being infected as well as false statements of other trojans
We Made a Video to help you out 🙂 .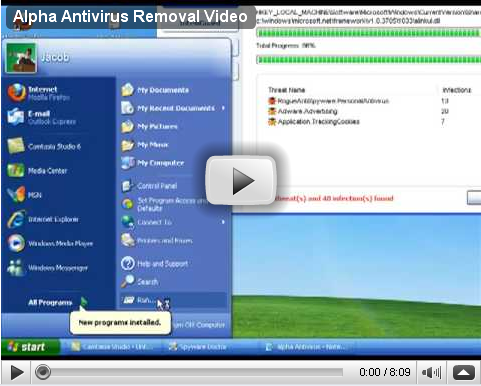 Manual removal instructions for Alfa Antivirus ( Please read our disclaimer below )
Kill PAlfa Antivirus processes: ( Learn How to Kill a Process Here. Opens in new Window )
alphaav.exe or Alpha Antivirus.exe
For those who have the Task manager disabled but can still download and run tools we recommend you download the process killer on the side bar.  You can use this to terminate the above file.  If you can not open or install any programs then we came up with a little hat trick.  Right click on the alpha Antivirus client file on your desktop.  Now select properties.  Once there under the general tab you should see a path location for the shortcut file.  Look at the end and you should be able to see the alphaav.exe trace file or something similar.  Now write down the entire path and browse to that directory.  Then re-name the trace file.
For instance if yours is alphaav.exe then name it alphasucks.exe or something like that.  Then re-boot your computer.  On boot-up you should now be able to open up programs. 🙂 If you can not view security websites or download products then we recommend you download the HOSTS fix on the side bar and run the tool.  Also if you are using Internet Explorer then you can use the re-set tool on the side bar as well to bring it back to the default settings.
We do recommend you run a full scan using SpyHunter » download. Even if you do not intend on purchasing the product it will help to stop the virus from re-installing and re-activating while you manually remove it. Also it will inform you of any new changes to the file names. You may need this if it mutates. Delete Alfa Antivirus registry values: ( Learn How to Edit Registry Here. Opens in new Window )
HLMKSoftwareMicrosoftWindowsCurrentVersionRun "Alpha Antivirus"
HKEY_LOCAL_MACHINESOFTWAREMicrosoftWindowsCurrentVersionUninstallAlpha Antivirus
HKEY_LOCAL_MACHINESOFTWAREAlpha Antivirus
Delete files: ( Hint ) Most of these files will be in the %Program FilesProtection System directory.
alphaav.exe or Alpha Antivirus.exe
Alpha Antivirus.lnk
Uninstall Alpha Antivirus.lnk
Delete directories: ( Please note that in most cases everything in this folder can be deleted. Just be sure it's the correct folder 😉
%Program Files%Alpha Antivirus
%Documents and Settings%All UsersStart MenuProgramsAlpha Antivirus
%Documents and Settings%All UsersApplication DataAlpha Antivirus
Please keep in mind that viruses mutate and change all the time. Do expect the above to change around a little. However this guide should work well for you and any experienced pro will be able to follow it and figure out the traces if they mutate.
Outside Resources:
http://www.2-viruses.com/remove-alfaantivirus
http://answers.yahoo.com/question/index?qid=20091113072011AAz95Zl